Peggy Krey, Capitol Civic Centre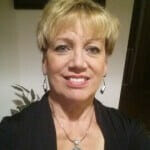 Peggy Krey has been with the Capitol Civic Centre (a 1920's vintage vaudeville theater and movie palace which was restored in 1987  by the citizens of Manitowoc County) for over 17 years. Prior to that she held several positions at Chilton Toys, a breakoff company of the Aluminum Specialty Company, which was eventually sold to Mirro, as the  Operations Director. Currently, some of her duties include membership coordination, accounts payable and receivable, contract administration and she is the liaison between the several local companies who call the Capitol home.
Peggy became a Chamber Ambassador in 2008 as a way to give back to the community she grew up in. She serves on the Scholarship Committee, which hosts the annual Evening to Wine Down event and helps organize the Annual Chamber Golf Outing.  Being a Chamber Ambassador is a great way to network, meet new people and help support local businesses. She is also a former board member of the Manitowoc Symphony Orchestra. A native of Manitowoc, Peggy has two grown children (Tara and Justin) and two young granddaughters (Addison and Emerson). In her spare time she enjoys golfing, reading and spending time with her family.