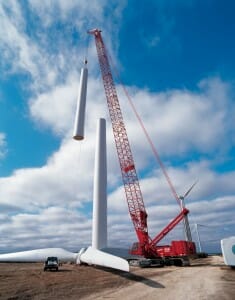 With its broad range of retail, manufacturing, wholesale, recreation and dining businesses, Manitowoc County enjoys a vibrant economy.  A major factor in this economic health is the effort by local companies to upgrade facilities and use new technology to remain competitive.
More than 45,000 county residents find employment with area companies, keeping the unemployment numbers well below the national average.  Traditional ethnic fare at local restaurants and the delights of first-class confectioners also gives Manitowoc County a unique atmosphere.
Both Manitowoc and Two Rivers have full-service light industrial sites available.  The City of Two Rivers will assist in obtaining property in Columbus and Woodland Industrial Parks.  Industrial construction programs can be tailored to suit qualified companies.
The Manitowoc Company, Inc. is a leading manufacturer of ice-cube machines, ice/beverage dispensers, soft-drink dispensing valves and commercial refrigeration equipment for the food service, lodging, convenience store, beverage and bottling industries.  Manitowoc holds the number one position in high-capacity, lattice-boom crawler cranes for heavy construction, energy-related, duty-cycle, dockside and crane-rental applications, and is one of America's leading producers of both boom trucks and related material-handling equipment.  Manitowoc is also the dominant provider of ship repair, conversion and new construction services for the Great Lakes maritime industry.
Lakeside Foods, founded in 1887, is a privately held, leading international food processor.  It has headquarters in Manitowoc, WI, fifteen plants and eight distribution centers in Wisconsin, Minnesota and Ohio, and employs an average of 1700 people.  Lakeside produces a diverse line of nutritional food products including canned and frozen vegetables, canned dry beans (kidney, black, pork & beans, etc.), shelf stable meals, canned meats, organic products, non-dairy frozen dessert toppings, salsa, and other sauces.
If you are seeking employment, Manitowoc County is a great place to work, live and have fun.
Manitowoc and Two Rivers make it a priority to assist companies which want to locate here or assist a business which is already part of the local economy and wishes to expand.  Such programs as industrial revenue bonds, revolving loan programs, Wisconsin Development Zones and others may be used to tailor construction or expansion to qualified companies.
Downtown and Main Street programs can help retail businesses as well as keep the commercial part of the communities alive and well.  Fixed asset financing is available for businesses locating and investing in downtown Manitowoc through the Manitowoc Commercial Revolving Loan Program.  Two Rivers Main Street Program provides renewal for the downtown area while the city of Two Rivers has a revolving loan fund for new and existing business.