Ambassadors: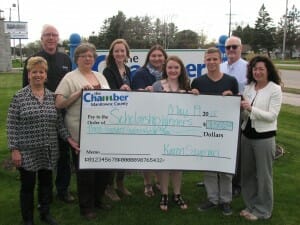 The Chamber of Manitowoc County Ambassador Committee is an elite corps of area business people serving as advocates for the Chamber and the business community. This committee works closely with the Chamber staff to promote membership and to keep members engaged at Chamber events.
They are hosts at special events such as ribbon-cutting ceremonies, Business After Hours and Grand Openings. They also plan and participate in the Chamber's Annual Holiday Reception, Evening to Wine Down Fundraiser for the Ambassador Scholarship Fund and the Chamber Annual Golf Classic.

Membership Growth:
The purpose of the membership growth committee is to have a satisfied group of members. The committee will assist in developing and initiating programs that promote member businesses and bring value to our members through benefits.
Leadership Manitowoc County:
Leadership Manitowoc County brings together emerging leaders from various segments of the community in a program that encourages, motivates, and prepares participants for assuming leadership roles in their places of employment and in Manitowoc County communities.
Legislative:
Assist The Chamber in facilitating discussion between Chamber-members and area elected officials while helping to promote and enhance the Manitowoc County business community.
Manitowoc County Partners in Education:
In collaboration with business, education and government, the Chamber's Manitowoc County Partners in Education committee helps The Chamber take a leadership role in solving workforce issues and supports initiatives that promote living and working in Manitowoc County.
The Chamber Safety, Health & Wellness Council:
The Manitowoc County Safety, Health & Wellness Council provides the community with education and resources to promote wellness practices that enhance health and safety in the workplace.
The Chamber Safety, Health & Wellness Council has also put together a Safety Self-Checklist created for businesses to do their own evaluation of the safety practices in their organizations. There is a standard version and a retail version.
Young Professionals of Manitowoc County:
The mission of Young Professionals of Manitowoc County is "To provide opportunities for Young Professionals to connect serve and grow as community leaders."