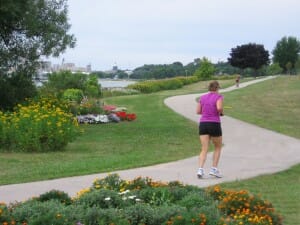 Photo courtesy Friends of Mariners Trail
Looking for a place to call home?  Take a close look at Manitowoc County and all of the cities, towns and rural areas that create this rich tapestry of life in northeast Wisconsin.
Enjoy the breezes and changing emotions of the Lake Michigan shore, take in the green patchwork vistas of the rich, rolling farmlands, kayak the meandering rivers and walk amongst the pines of forest trails.  Take a refreshing dip in a crystal clear inland lake, gaze at the secret life of the marshlands.  Share an excellent cup of coffee in your favorite shopping area, toast the holidays with friendly neighbors.  Plan you weekend around a professional symphony appearance, a small venue theatre production, a festival, air show or one of hundred of cultural events throughout the county.  Stand in awe as you watch hundreds of colorful kites pitching and bobbing against the blue skies and Lake Michigan waves.