In addition to chances to network, learn and make a difference for business in Manitowoc County, Chamber membership gives you direct access to promote your business in print and online.
Tuesday Tidbits:

Every Tuesday The Chamber of Manitowoc County sends out an email with the subject line "Tuesday Tidbits" (which is also made available on our website). As a Chamber member, you are welcome to submit a short message (85 words or less) pertaining to your business (an upcoming event, a sale or special, your services, etc.). Tuesday Tidbits is a great value-added marketing tool available to you at no cost. Submit your Tidbit to tuesdaytidbits@chambermanitowoccounty.org by noon on Monday for inclusion in the next day's edition. Ad space is also available for a small fee.
Business Matters Weekly:
You can put your business' logo or 3"x3" JPEG graphic at the top of our weekly Friday newsletter,  Business Matters Weekly for only $25. (For $35, we'll link to your website!) Call now (920) 684-5575, to find out which Fridays are available!
The Chamber Website:
You have the ability to drive traffic inquiring about your business on our website directly to YOUR website! As a member you can edit your business information including a description of your business, the hours of operation, driving directions, and enter search keywords for people looking for your business. In addition, there are advertising opportunities available on The Chamber website; please contact us for more info!
The Chamber Notebook: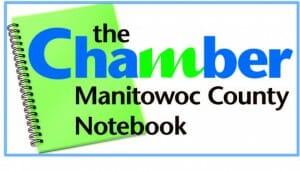 Every Sunday The Chamber of Manitowoc County publishes member news in the Herald Times Reporter in our own feature called The Chamber Notebook. As a Chamber member you are welcome to submit a short article (400-450 words) and photo for publication. Call The Chamber at (920)684-5575 for available dates. Submit your news article to info@chambermanitowoccounty.org and we'll submit it for you!
Chamber Savings Card:
Your discounted offer to the 20,000 employees of Chamber member companies can be a significant traffic builder for your business. Give them a unique offer and watch them use it!  CLICK HERE for current offers.
Sponsor Chamber Events & Programs:
Nothing communicates success more than your vital support of Chamber programs and events. You receive a great amount of visibility and attention and fellow Chamber members will thank you for your support. Here are just a few of the events and programs available for sponsorship:
Awards of Distinction
Scholarship Fundraiser
Chamber Seminars
Lunch & Learns
Chamber Bucks
Reality Store
Leadership Manitowoc County
Jr. Leadership Manitowoc County
Golf Outing
For more information, please contact The Chamber office at (920) 684-5575 or email us at info@chambermanitowoccounty.org.