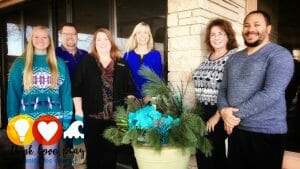 Fox Hills Resort of Mishicot think's, love's and play's in Manitowoc County! Manitowoc County easily becomes home to both those just passing through and those looking to relocate permanently:
Question: Why does your family, business or you love Manitowoc County? 
Manitowoc County easily becomes home to both those just passing through and those looking to relocate permanently. Quiet, safe and clean towns and villages, lots of things to do, friendly people and abundant natural resources are what set Manitowoc apart from other places.  And LAKE MICHIGAN!  It's beautiful shoreline with super clean beaches, boating, fishing and just a spectacular ambiance all year long make Manitowoc County's towns and villages great places to visit or to live.  We love telling our resort guests about the resources available to them during their stay that are just a short drive away.
Question: Please share a (specific) positive story that your business has experienced in Manitowoc County?
When we worked with Angel Mueller on Epi-Pen training here at the resort, we realized not just how caring our community is, but also how driven our community members are to be innovators and great makers of change.  Angel's son, Dillon, died from anaphylaxis as a result of a bee sting.  Despite their grief, Angel and her family made the decision to educate everyone they could on the use of life-saving Epi-Pens.  We held both community and staff training sessions here at the resort, and now have Epi-Pens available for our trained staff to assist in emergencies.  Angel and her family have taken her crusade to the State of Wisconsin, and Dillon's Law, which allows trained individuals to carry and administer Epi-Pens to those in the crucial time of need when exposure to an allergen happens, is now a reality!
Question: What's your favorite characteristic about Manitowoc County?
Something that's great about Manitowoc County is the abundant natural resources.  Here in Mishicot,  you can get on the Ice Age Trail for a hike, or on the East Twin River with a canoe, and we are so close to Point Beach State Forest and of course, Lake Michigan and hundreds of little lakes too.  Manitowoc County is lush with trees and wildlife, with lots of parks too – really an outdoor enthusiasts dream!  With so many agriculturally based businesses – from dairy farms to alpaca farms, wineries and cheese shops, lily farms and nurseries – taking care of our land and resources, takes care of our businesses too.
Like so many towns around the country, Manitowoc has weathered its share of changes and challenges.  Unlike so many towns around the country, it remains a great place to live, work and visit.