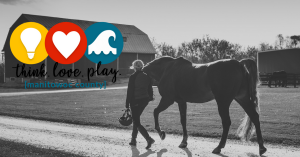 Meet Natalie Hamilton, mother, wife, nurse, photographer and small business owner of graced. Learn why Natalie think's, love's and play's in Manitowoc County!
Hi everyone I'm Natalie Hamilton, owner of Graced in Manitowoc County. My husband and I John are US Navy veterans and transplants to the Manitowoc area. I am originally from the Milwaukee area and John grew up in Denver. We relocated to Manitowoc for John's job at Aurora Medical Center, he is a Nurse Anesthetist. We reside in Manitowoc and have lived here for 3 years (a perfect place to grow and raise our family). We have four children, Tyler, James, Norma Jean and Anna and a golden retriever, Henry! When not working, I like to slip away and ride with my daughters at Forward Horse Farm in Manitowoc; I like to think it keeps me sane at busy times! Pictured is my horse and I, Slammer.
We love Manitowoc County because it has allowed us to grow as a family and personally as a small business owner! Knowing my customers by first name basis, having acres of farmland to ride on, feeling safe and have the many amenities of a small town atmosphere; we love calling Manitowoc our HOME!
Labor and Delivery Nurse by trait, I've had big dreams, I mean really big dreams, simply with hardwork and a leap of courage, graced was developed. We envisioned the small retail space a place where people could rent items, mostly unique vintage finds, to style weddings and events. As planning for graced was underway we realized that we not only wanted to be a store that catered to brides and couples. We wanted to be a place where anyone could stop by and find something that they loved and could envision in their home. We decided to add in retail and focus on smaller home decor items, developed the graced box while specializing in unique sourced items sourced from small businesses throughout the US…
…and here we are, graced opened June of 2016. With tremendous support and thanks to social media and the awesome Manitowoc community spreading the word, we have had visitors to graced from Green Bay, Appleton and even as far as Madison and Milwaukee!