Your source for everything you need to shop locally in Manitowoc County. Coupons & Hot Deals, Online Shopping Links, Chamber Bucks information, Chamber Advantage Card offers & discounts – your Shop Local headquarters!
Shop Local Online (Items & Gift Cards):
Shop Local Online (Tickets, Classes, Gift Cards & More):
Specialty Shops, Boutiques, Gifts, Etc. (In-Store or Call):
Invincible Office Furniture Solutions  Website
Lakeland Landscape Service of Manitowoc, Inc.  Website
Luvz Green LLC Website
Manitowoc County Historical Society Website
Manitowoc Pharmacies Website
Meadow Lanes West Website
Medicine Shoppe, The Website
PDJ Cutting and Fabricating LLC   Website
Pine River Mini Marts Website
Popp Enterprises: Harbor Town/University BP Website
Repeat Performance Resale Shop  Website   Website
Schroeder's Department Store Website
Scotty Landscape Supply   Website
The Seamstress  Website
Seven Lakes Golf Course Website
Superior Discount Liquors  Website
Wilfert Farms Website
Shop Local Auto and Watercraft
Coupons, Flyers, Weekly Ads, and Discounts
Locate a Local Business:
With over 500 member-businesses, The Chamber of Manitowoc County is certain to be able to help you locate the business or service you are looking for.
View our online Business Directory to find a specific local business today!
Local Food & Beverage:
Hungry?  Manitowoc County offers many choices for you to satisfy your taste-buds!
Hotels/Motels: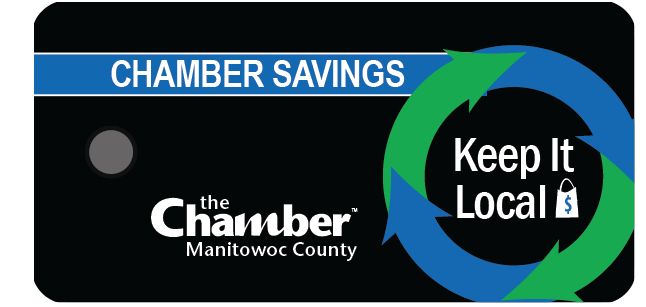 Chamber Savings Card:
The Chamber Savings Card features discounts offered by participating Chamber members to the 20,000 employees of Chamber member companies. When members present the card at participating businesses, they receive valuable discounts and spend their money locally.
Click Here to view the 2023 Advantage Card Offers.
Gift Local with Chamber Bucks:
For a complete listing of where Chamber Bucks can be redeemed (and where you can buy them), please visit Chamber Bucks Information.