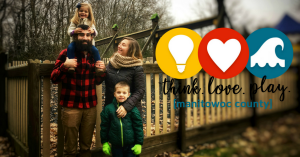 Meet the Goff Family! They braved out the rain to let us take their #ThinkLovePlay photo. From living in a safe community to enjoying the local businesses, learn why the Goff's #ThinkLovePlay [Manitowoc County]
Question: Why does your family love Manitowoc County?
We love that almost every weekend, there is something going on here in Manitowoc County, from festivals to farmer's markets.  We love that if Manitowoc doesn't have what you need, Green Bay, Sheboygan and Appleton are only 45 minutes away.  We love the Point Beach State Park and the hiking and running trails it has.  We love the many playgrounds and parks, especially Schuette Park.  We love the fact that we feel safe letting our kids play in the front yard, safe to go for nighttime runs throughout the city, and safe to travel anywhere in the city.  We also love some of the awesome stores in downtown Manitowoc, including Graced, Manitowoc Coffee Company, and Wrap It Up.
Question: Please share a (specific) positive story that you have experienced while living in Manitowoc County?
This year our daughter turned 3 and we decided to just do an informal party with a backyard cookout.  We invited all our neighbors, friends and family thinking that most would not show up since it was simply just an informal get-together.  We ended up having over 35 people show up and celebrate this little girl's third birthday!  She felt so special and we felt so grateful to have so many awesome, supportive people in our lives. The best part of living in Manitowoc is definitely the people.   They are supportive, giving, kind, and caring.  Another example of this is with Natalie from Graced.  A few years back, I decided that I wanted to take my woodworking hobby and move it towards a "tiny" business.  I reached out to Natalie to see if she would be willing to take some of my builds and sell them on consignment in her store.  She was definitely willing to support me by featuring and selling some furniture, but she took it another step and hired me to build a shelving display.  I have since built numerous displays, cutting boards, and more for Graced.  That work has led to many other connections and business for my Northern Roots Woodworking "tiny" business.  Her willingness to support a fellow entrepreneur and local small business literally turned my hobby into a profitable (if I ever stop buying more tools) business!  We have made so many lifelong friends here and are so grateful to live in Manitowoc County.
Question: What's your favorite characteristic about Manitowoc County? (Ex. recreation, culinary experiences, historical, lakeshore, feeling safe, small quaint community, local shopping)
Our favorite part of Manitowoc is the outdoor activities that are available to us.  As a trail runner, having some awesome trails within 10 minutes of your front door is something many people don't have, and I have 3 great options in Schuette Park, Woodland Dunes and Point Beach State Park!  My family was hiking in Point Beach when my son, Tucker, lost his first tooth.  Now every time he has a loose tooth, we have to back for a hike because that is the "only place that works for getting his tooth out." We also love the lakeshore beaches and trails for walking, biking, running, and even some swimming. We spend a lot of time outside. Wisconsin summers cannot be beat and the Manitowoc County has a ton to offer!