Whether working together to ensure a strong future workforce, promote local purchasing, address an issue that's holding up growth, or to develop ways to keep young people engaged, The Chamber and its volunteers work hard and successfully on many fronts.
Buy Local Initiatives:

Almost $350,000 of Chamber Bucks are sold and reinvested back into the business community each year. An increase in local spending stimulates our business economy and keeps our community alive and thriving. Visit our webpage strictly dedicated to shopping locally, www.shopmanitowoccounty.com.
CEO Roundtables:

Roundtable discussion groups provide a structured and confidential environment for you as an executive to share best practices and discuss your business challenges. Currently, The Chamber offers Non-Profit, Small Business and Mid-Sized Business CEO Roundtable groups.
Are you looking for a way for the Chamber to pay you money?  Then simply attend just one meeting of the CEO Round tables because the information and knowledge you gain from this ONE single meeting will more than pay for your yearly membership.   Where can you get together with 10 or more business leaders and talk about issues and successes?  There is no home work that needs to be done, just show up, chat and listen.  I have been attending for two years and frankly.  I have missed 1 meeting.   The reason?  They are that valuable, but of course you won't know unless you attend.  – Kenlyn T. Gretz, AMERICOLLECT, President and CEO
Legislative Efforts: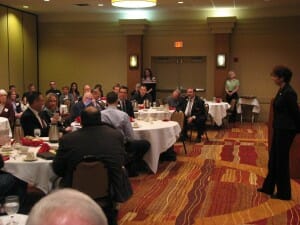 If there is an issue of importance to businesses in our region, The Chamber's Legislative Committee goes into action to provide education to Chamber members. Monthly Business Connects with Government luncheons promote strong, effective relationships with government officials.
The Chamber does so many things to make my membership valuable.  I really like the Business Connects with Government monthly meetings because it gives us a chance to network and to hear from our local and state representatives  – Member of The Chamber of Manitowoc County
Sail Young Professionals of Manitowoc County:
Workforce retention, valued connections and friendships are the primary goals of this energetic group of young professionals who meet for networking and professional development. These are the up-and-coming leaders in our community.  Visit www.sailypn.com for more information.