---
Join The Chamber of Manitowoc County's Safety, Health & Wellness Council on September 21, 2021 from 8:00 am–10:30 am for the 2021 Safety Symposium being filmed live at Vagabond Creative Studio. This event will be Streaming Online Only. It's free for everyone thanks to the sponsorship from Bellin Health. You must register here to receive the link to attend.
Anyone who registers will also be entered to win one of the free books: The Fearless Organization: Creating Psychological Safety in the Workplace for Learning, Innovation, and Growth (Donated by Bellin Health).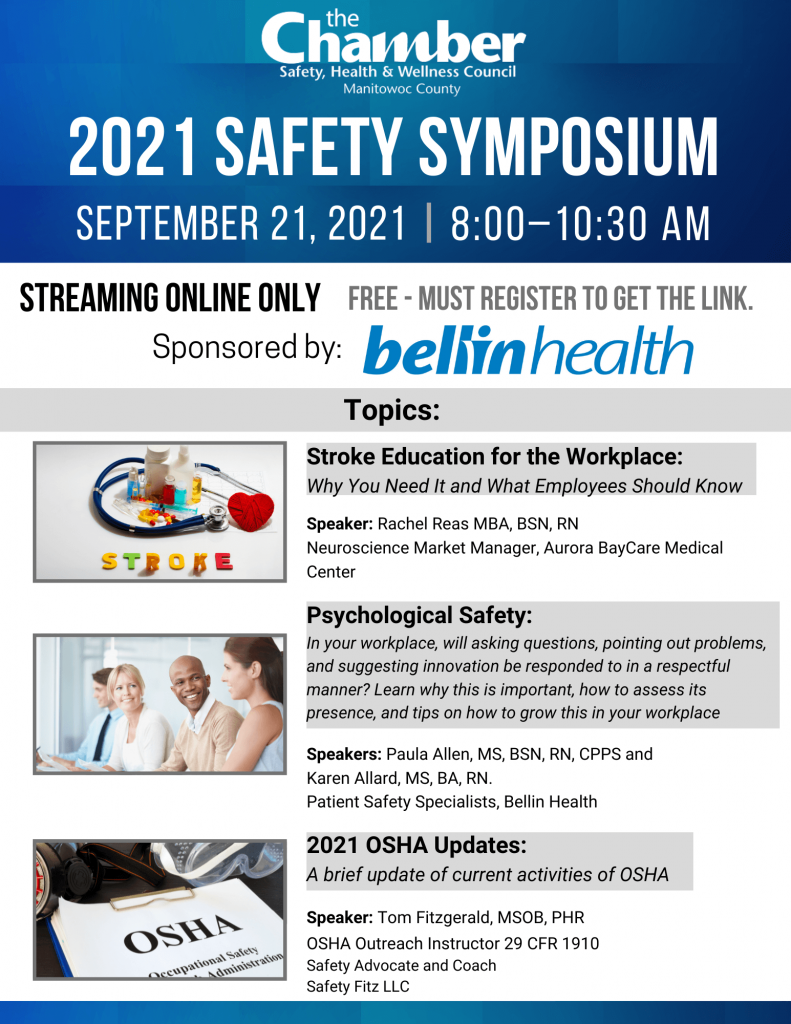 (If you can't attend the livestream, you can still register to recieve a link to the recording afterwards).
Speakers will be covering three main topics, including:
Stroke Education for the Workplace:
Why You Need It and What Employees Should Know
Speaker:
Rachel Reas MBA, BSN, RN
Neuroscience Market Manager, Aurora BayCare Medical Center
(8:15 – 8:50 am)
---
Psychological Safety:
Psychological safety has been referred to as the single most important characteristic for successful teams and leads to decrease in turnover and increases in effectiveness. Psychological safety is the belief that your environment is safe for interpersonal risk-taking meaning that asking questions, pointing out problems, and suggesting innovation will be responded to in a respectful manner. This presentation will cover what psychological safety is, why it's important, how to assess its presence, and tips on how to grow this in your workplace.
Speakers:
Paula Allen, MS, BSN, RN, CPPS and
Karen Allard, MS, BA, RN.
Patient Safety Specialists, Bellin Health
(9:05 – 9:40 am)
---
2021 OSHA Updates:
A brief update of current activities of OSHA
Speaker:
Tom Fitzgerald, MSOB, PHR
OSHA Outreach Instructor 29 CFR 1910
Safety Advocate and Coach
Safety Fitz LLC
(9:55 – 10:30 am)
---
If you have questions for any of the speakers, please submit them, using this link: https://www.surveymonkey.com/r/926YG2F.