/**/
Your source for everything you need to shop locally in Manitowoc County. Coupons & Hot Deals, Chamber Bucks information, Chamber Advantage Card offers & discounts – your Shop Local headquarters!
Chamber Bucks:
Which Businesses accept Chamber Bucks?
For a complete listing of where Chamber Bucks can be redeemed, visit our

Chamber Bucks 

Participants
Where can you buy Chamber Bucks?
The Chamber of Manitowoc County Office
Colonial Pet Shoppe
UnitedOne Credit Union (Inside Wal-Mart)
Tietz's Piggly Wiggly- Manitowoc (At the service desk)
Tietz's Piggly Wiggly- Two Rivers (At the service desk)
Schroeder's Department Store
T.A. Motorsports Grand Rental
T.A. Motorsports, Inc. – Francis Creek
Facts About Chamber Bucks
The Chamber of Manitowoc County Chamber Bucks are simple to order and make a ideal gift for weddings, retirements, graduations, birthdays, holidays, employee bonus/incentives, thank you's, a job well done, etc.
More than $500,000 worth of Chamber Bucks were sold in 2018
Chamber Bucks can be purchase in $5, $10, and $25 denominations
Chamber Bucks are used just like a check or cash.
Redeemable at over 240 locations.  From restaurants to entertainment; office supplies to furniture; gasoline to automobile repair; and retail stores to specialty shops. Chamber Bucks offers you a truly unique gift. This means the dollars stay right here in our communities and supports local businesses.
Addition Coupons, Flyers, Weekly Ads, and Discounts
ACE Hardware/American Home and Garden
Pick N Save
Festival Foods
Fleet Farm
Tietz's Piggly Wiggly
Superior Discount Liquor
Locate a Local Business:
With over 510 member-businesses, The Chamber of Manitowoc County is certain to be able to help you locate the business or service you are looking for.
View our online Business Directory to find a local business today!
Restaurants:
Hungry?  Manitowoc County offers many choices for you to satisfy your taste-buds!
Hotels/Motels: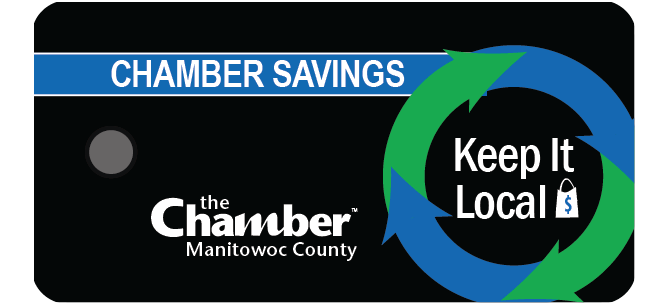 Chamber Savings Card:
The Chamber Savings Card features discounts offered by participating Chamber members to the 20,000 employees of Chamber member companies. When members present the card at participating businesses, they receive valuable discounts and spend their money locally.
CLICK HERE to view the Savings Card Offers.