Meet Erin LaBonte, Associate Professor of Art at Silver Lake College! Learn here #thinkloveplay story!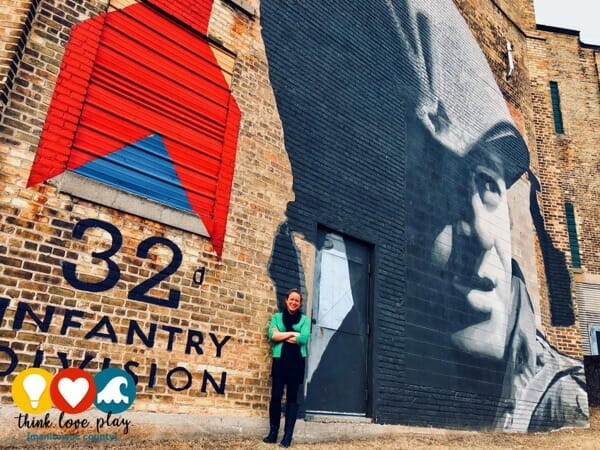 What do you love about our County:  I moved to Manitowoc after graduate school for my first professional career at Silver Lake College.  The community has been easy to become involved in.  It has offered me so many opportunities to grow, collaborate and be innovative.  It has an excellent artist community and Lake Michigan!  Since I moved here I have become a mural artist and a paddler.
Positive experience: A couple years ago I had the opportunity to collaborate with artists, community members and the City on a mural in Red Arrow Park.  The experience was very rewarding.  It was amazing how people came together to share their vision, to help the artists paint and even just to stop by and tell us what a good job we were doing.  People would buy us breakfast at Lates before we'd start painting and would stop to bring us water while we worked.  I learned so much about myself and our community through this project.  I've been asked to do more murals since then, and each one I do offers me a new glimpse into Manitowoc's rich history and the richness of it's sense of place and community.
Favorite things about our area: Manitowoc is a beautiful place.   For a small city it has a lot of variety.  A lot of great artists call Manitowoc home, and I feel fortunate to be able to learn from them and collaborate with them.   I love summer mornings when I can go to the Farmer's Market and then for an afternoon paddle.  I get most of my grading done perched at Manitowoc Coffee watching the Downtown, and my favorite is to get some tacos and a good drink at Ryans on York.  "Life is good on the lakeshore.