The Manitowoc Public Library is a forefront of the County! Having over 200,000 people walk through the MPL doors, the library is a huge resource for many residents and visitors.
Why do we Love Manitowoc County:  Manitowoc County is such a unique and special place filled with caring individuals who truly have the community's best interests at heart. Manitowoc Public Library is continually impressed by the support we receive from our community. It's easy to see that Manitowoc values MPL, from the usage of our daily services and physical resources, to the enthusiastic attendance at our programming and events. On average, we have over 200,000 people walk through our doors on an annual basis! This doesn't even take all of the additional online usage and outreach efforts into account. In addition, the community always shows up to back our fundraising efforts and is completely supportive of the new ideas we try at MPL.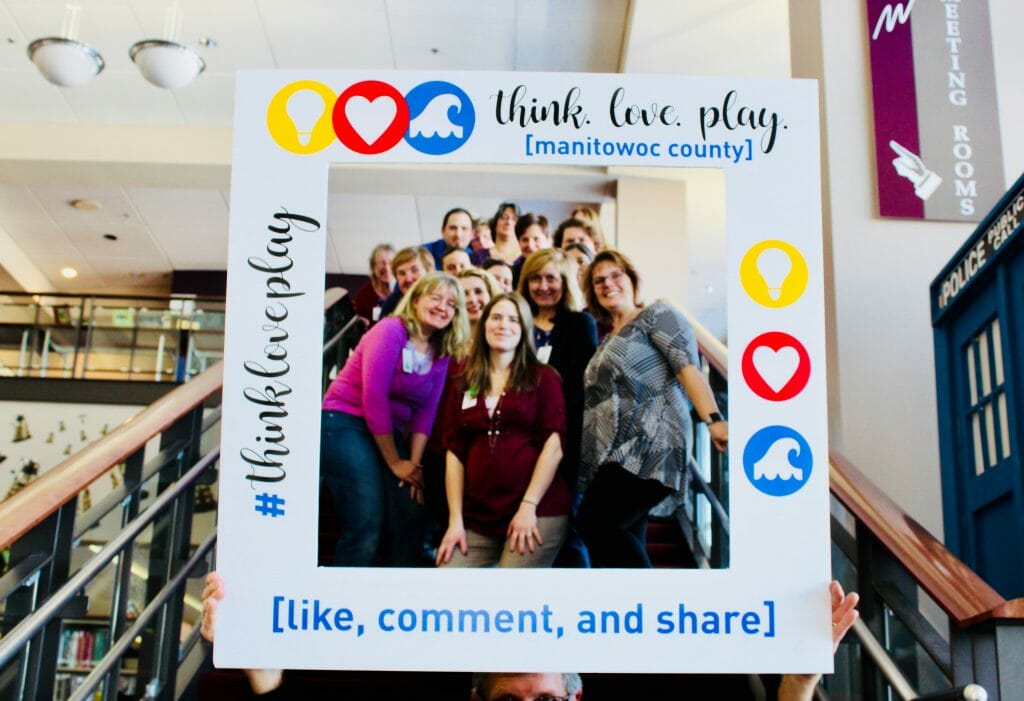 Finally, who wouldn't love the beautiful scenery Manitowoc County has to offer? We have a beautiful lakeshore and MPL is fortunate to have great views of both the Manitowoc River and Lake Michigan. This incredible natural asset affords us an incredible array of outdoor activities—great hiking, phenomenal biking, wonderful beaches, and, of course, our car ferry, the Badger. As a community, we must continue to strive to create an awareness of these great attributes for visitors to the lakeshore and for one another, as well. We have so much to offer—as a community and an institution—and we're proud to be part of Manitowoc County.
Manitowoc County Positive Experience: A few months ago, an MPL staff member shared this story with me and it instantly became one of my favorites. It truly highlights our wonderful community and all it has to offer. It tells the story of a man who lived in Upper Michigan that tragically lost his wife approximately six months ago.
After a few months, he realized that he could no longer live in his current town of residence. It had become unbearable. Every time he stepped outside, someone asked him "How are you doing?" And there were simply too many reminders of his wife. So, he got in his car, and he started to drive. While driving south on I-43, he started to see signs for Manitowoc. While he had never heard of the city, he thought to himself "What the heck!" and pulled off at the Manitowoc exit. Driving around town, he decided that it looked pretty nice, so he decided to stay for a few days. During that stay, he frequently stopped in at the library. He loved that he could use the internet for free and stay connected with family. On one of these visits, he saw the flyer for a grief share program at Hope Church. He was still grieving for his wife, so he thought this might be a good opportunity for him to connect and decided to check it out. He became a regular at the grief share meetings and credits the library for helping connect him to this resource. As a result of these meetings and the friendly service he received at the library, this man decided to permanently relocate to Manitowoc. One of the reasons he decided to stay indefinitely in Manitowoc was MPL! We couldn't be more proud.
It's hard to pinpoint a single characteristic which we love about this community. As I mentioned above, there is so much Manitowoc County has to offer. MPL serves the role of providing educational resources to every demographic in our community regardless of age or background to meet their educational, recreational or cultural needs. As a result, MPL has the opportunity to connect with our residents and organizations in so many different ways. One characteristic which surfaces all the time is the community's willingness to help and support our local non-profits. Our community is proud of these organizations, including MPL, YMCA, Big Brothers Big Sisters, The Haven, and so many more. There is also a positive attitude towards collaboration in serving the greater needs of our community. This positive attitude and focus on collaboration is beneficial for all concerned parties: our organizations and ultimately, our community. We are proud to be part of this collaborative network.
We are excited about this Think. Love. Play. initiative in Manitowoc County. What a great opportunity to share all that Manitowoc has to offer to our residents and visitors. MPL is proud to be part of this.