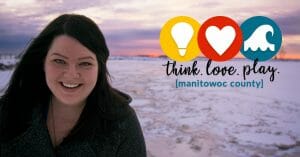 Meet Michelle Kaczmarowski! (Owner/photographer at MK Photography and team member at Schenck)! Learn why she think's, love's and play's in Manitowoc County…Read about her awesome neighbor and what he has done for their street!
Question: Why does your family, business or you love Manitowoc County?
I was born and raised a Yooper, so I am a transplant. I grew up in Marquette, MI on the shores of Lake Superior which means I was very spoiled as far as scenery is concerned. From the time I was young I knew I would never feel "at home" unless I was near a lake so I love that Manitowoc County is right on the lakeshore! From the beautiful sunrises to the beach-side concerts and festivals, there are always incredible opportunities to create beautiful photos and enjoy making memories with friends and family.
Question: Please share a (specific) positive story that you have experienced while living in Manitowoc County?
A few years back we experienced a hail storm that came seemingly out of nowhere. The drainage grates on our street were completely blocked with hail, leaves, branches, and whatever else the wind and rain tossed into the mix. The water was pooling in the street and the neighborhood was at risk of having one common theme – flooded basements. Fortunately for everyone we have an incredible neighbor who was out in the street with his rubber boots and a pitch-fork making sure each and every grate was unclogged! He made sure all of the water was drained before it could do any damage. In summer he often does the edging work on the sidewalks for the entire neighborhood. He has a beautiful garden which he shares – both in the way of sharing the food he harvests as well as teaching both kids and adults in the neighborhood how to properly pick things like raspberries. He even makes his own honey and shares it with everyone! In winter he will snowblow driveways just to be kind. He is always outside working on his house, his garden, tending to his bees, and helping out anyone and everyone who needs it. He has done many wonderful things to make our life in Manitowoc just that much better.
Question: What's your favorite characteristic about Manitowoc County?
Not to sound like a broken record, but hands down it's the lakeshore! My husband and I are fortunate enough to live less than a mile from the lake so I get to gawk at it every day on my way to work. I am also fortunate to work in a building that is very near the lakeshore with windows that provide stunning panoramic views of Lake Michigan all day long. I love the fact that we have so many great small businesses on 8th street that are right near the lakeshore as well. What's better than a morning coffee, some shopping, and a walk to the 8th street bridge to enjoy (and photograph) the view?! I also appreciate the "small town" feel in Manitowoc. I tried living in a big city for a while but it simply wasn't the right fit. I love that I am only a mile from work which means I can bike or walk if I feel like it, that trips to major cities don't require a "weekend away", and that everything I need is quite literally less than 5 miles away at any giventime.