Meet Matthew Schliesman, Executive Director, Capitol Civic Centre! From living in Los Angeles for 25 years to stumbling upon Manitowoc County, now calling it home for 7 years! Learn why Matthew Thinks. Loves. Plays in Manitowoc County!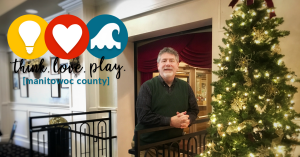 Question: Why do you love Manitowoc County? 
After finishing college at UW Whitewater I lived in California for 25 years, but never lost my fondness for Wisconsin where family roots run deep. In 2010, I decided that it was time to leave Los Angeles; it was time to come home. Looking for opportunities around the state I stumbled upon a position in Manitowoc. I did not know Manitowoc, so I did my homework. Having spent my career in the fields of performing arts and entertainment, I was impressed with the depth and breadth of talent here on the Lakeshore, the amount of passion for the arts, and the stunning venue the people of the Lakeshore had preserved—the Capitol Civic Centre.
This is a fine town full of good people. Manitowoc has had a rough time with the loss of much traditional industry over recent decades, but the promise and potential of this community and its people remain strong; I think our future is bright.
I'm particularly moved by two aspects of living here. The first encompasses the opportunities for us to make this downtown something vibrant, charming, and special for residents and visitors alike. The second has to do with the easy access to miles and miles of bucolic country roads and vistas, which I enjoy on frequent drives away from the hustle and bustle of town.
Question:  Please share a (specific) positive story that your business has experienced in Manitowoc County?
It was 30 years ago – 1987 – that the old Capitol Theatre, which was built in 1921, was given a new lease on life. The restored Capitol Civic Centre, the "Jewel of the Lakeshore," opened in October, 1987. The subsequent years have seldom been easy for this organization, but they have always been rewarding. Saving and then operating this venue as a nonprofit organization speaks volumes regarding the heart of this community. Nonprofit organizations must have ongoing support to exist and meet the changing needs of the people they serve. That this community rose to the occasion to save the Capitol 30 years ago, and that the Capitol continues to meaningfully serve the Lakeshore, are just two examples of why this community can be proud.
Question: What's your favorite characteristic about Manitowoc County?
The contrasts of my life in LA, where it can often take 60 minutes to go 10 miles in traffic, and here are many and dramatic. Besides the tremendous difference in the simple cost of living between there and here, here I live just over a block from work. My home has a beautiful view of the USS Cobia, the river, Lake Michigan, and more. Also, here I get to know and work with so many people who care about this community, folks working to make our community and world better.
Winter aside (I confess that I don't do well with winter), leaving LA and coming to Manitowoc was a good move for me.